Back to On-Demand Education
Half Page Advertisement - Conference Print Edition
Advertising | Magazine
Get noticed in the May 2023 conference printed edition of the Parking & Mobility magazine!  This printed issue will be to be distributed at the IPMI 2023 Parking & Mobility Conference & Expo in Fort Worth, Texas, June 11-14, 2023! 
---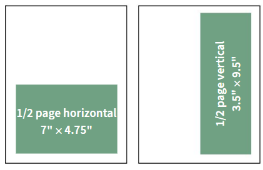 Half page advertisement - Horizontal - 7x4.75 or Vertical - 3.5x9.5
Acceptable File Formats -
All files must be submitted as high-resolution (300 dpi) PDFs.
PDF/X-1a protocol or later.
PDFs need to be flattened with all fonts 100% embedded.
RGB color format is preferred. CMYK files can easily be
converted to RGB but unwanted color variations may occur.
For questions, please contact Tina Altman at taltman@parking-mobility.org .
Please click here to read and agree to the advertising terms & conditions. 
You can add your artwork to the Googel Drive link here.
---