Back to On-Demand Education
The Parking Study is Done. Now What?
Education | On-Demand Webinar
Description:
Many of us have found ourselves at the end of an extensive parking study process. There were meetings upon meetings. Parking inventories were completed, and several options sifted through. At the end of the parking study, you have a nice, new, shiny document with great recommendations and multiple options. Then the dread sets in—realizing this is where the hard work of implementation begins. You ask yourself, "Where do I start? What do I do next? How do we decide? How do I let the parking customer know about these changes?" This webinar will provide participants with the tools to begin implementing parking study recommendations; it will discuss the importance of crafting a good public outreach message and bringing the right mix of stakeholders to the table.
Attendees will:
Gain an understanding of which steps to take first.
Learn what to consider when bringing different stakeholders to the table.
Gather new ideas about messaging changes to the public.


---
Presenter: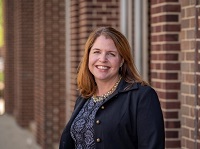 Jennifer McCoy, PE, PTOE, Senior Traffic Engineer, Bolton & Menk
Jennifer McCoy, PE, PTOE, is a senior traffic engineer at Bolton & Menk. Beginning her career in 2000, working in both public and private sectors, she takes pride in helping to improve the lives of others. She brings expertise in managing a municipal parking system consisting of on-street meters and garages for several years.
---